Victories and Settlements
TOTAL RECOVERED
$27+ Million
NOVEMBER 2022
$895 Thousand
SEPTEMBER 2022
$3.25 Million
FEBRUARY 2021
$1.45 Million
SEPTEMBER 2020
$6.5 Million
DECEMBER 2018
$1.5 Million
If You Were Wrongfully Fired At Work, We Want To Help
Bokhour Law Group is a team of dedicated legal professionals who specialize in Employment & Labor law. Our focus is solely on advocating for the rights of California employees who have been wrongfully fired at work or experienced other mistreatment. We have secured settlements totalling over 20 million dollars.
Wrongful termination occurs when an employee is fired from their job for reasons that violate their legal rights. This can include:
Retaliation for reporting discrimination or harassment
Discrimination based on race, gender, age, disability, or other protected characteristics
Retaliation for reporting safety violations or illegal activities
Retaliation for taking leave under FMLA or CFRA
Breach of employment contract or implied promise of job security
Constructive termination due to intolerable working conditions created by the employer
Bokhour Law Group also handles cases involving wage and hour violations, harassment, discrimination, and other workplace abuses.
If you are seeking legal counsel for being wrongfully fired at work, including situations such as being fired while pregnant or during medical leave, we are here to defend your rights and get you compensation.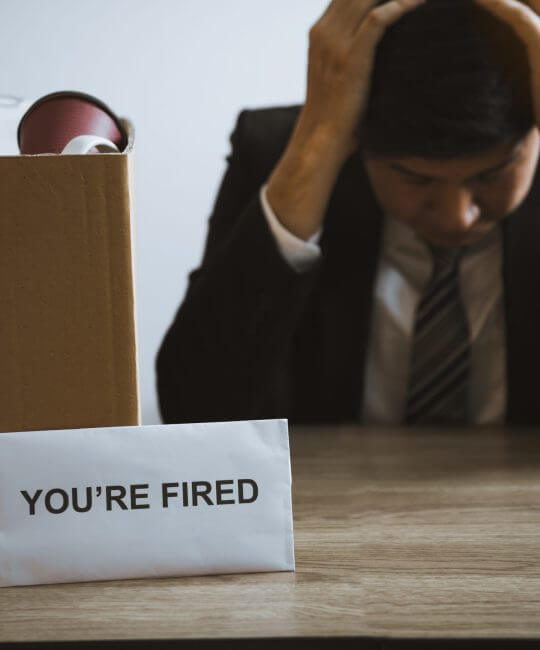 The Law Is On Your Side, And So Are We
We understand the devastating impact that wrongful termination can have on people. Being wrongfully fired from your job can result in serious financial hardship, loss of health insurance for the individual and their family, emotional distress, damage to one's reputation, and a loss of a sense of purpose and identity. No one should have to go through this.
The Equal Opportunity Commission (EEOC), the California Department of Fair Employment and Housing, and other federal and state agencies play a crucial role in safeguarding employees from unlawful employment practices. Despite the laws in place meant to protect the workforce, many employees still face illegal treatment in the workplace.
The experienced lawyers at Bokhour Law Firm are well-versed in the federal and state laws that protect employees and in the litigation process involved in obtaining compensation for our clients. As experts in employment law, we are here to fight for your rights and ensure that you receive the compensation and justice you deserve.
California Employees Deserve The Best
At Bokhour Law Firm, we have a proven track record of securing maximum compensation for wrongful termination cases, including back pay, reinstatement, punitive damages, attorney fees, and more for our clients. We are exclusively dedicated to fighting for justice on behalf of California employees.
In addition to wrongful termination, we specialize in handling a range of complex employment disputes, including:
Wage and hour violations
Retaliation
Disability and pregnancy discrimination
Sexual harassment and more
We understand the emotional toll that these experiences can take on employees, and we are here to help you navigate the legal system every step of the way and get you the compensation you rightfully deserve.
If you have been unlawfully fired or subject to workplace mistreatment, don't let your employer get away with violating your rights.
Contact us today to schedule a consultation. To speak with California's most trusted employment law firm, please call our office at 951-724-4693.
What Our Clients Say About Us
"I endorse this lawyer. He is a very knowledgable and talented attorney and provides great service to his clients."
Farzin Hatanian
"I've known Mr. Bokhour within the legal community for a long time. I have always admired his integrity, ability to solve his clients' problems, professionalism, and polished work product. I highly recommend Mr. Bokhour and fully endorse his services."
Eliot Houman
"I endorse this lawyer. Mehrdad has been an avid employment litigator for a while, and he is very good at what he does. He treats his clients with respect and is responsive. His dedication to client services is unmatched. I would recommend Mehrdad to anyone looking for a strong and knowledgeable employment attorney."
Joshua Falakassa
"Mehrdad is a tremendous attorney. He is an extremely dedicated advocate who goes the extra mile for each of his clients. He is absolutely an attorney that I would want to have in my corner."
Andrew Malatesta
"Mehrdad is very knowledgeable in labor and employment law. He employs creative strategies and is a zealous advocate for his clients. I fully endorse him."
David Bibiyan
Positive: Professionalism, Quality, Responsiveness, Value
Highly Satisfied with our experience.
Mehrdad Bokhour and Sanjay Bansal, we are thankful for your honesty, for the excellent customer service, and for being with us every step of the way.
You guys are amazing.Thank you once again for everything you do.
Hector and Carmen Torres
© 2023 · Bokhour Law Group