Victories and Settlements
TOTAL RECOVERED
$27+ Million
NOVEMBER 2022
$895 Thousand
SEPTEMBER 2022
$3.25 Million
FEBRUARY 2021
$1.45 Million
SEPTEMBER 2020
$6.5 Million
DECEMBER 2018
$1.5 Million
Disability Rights Are Civil Rights
At Bokhour Law Group, we represent employees experiencing workplace disability discrimination. Disability discrimination refers to unequal treatment of employees due to their disability, perceived disability, or affiliation with an individual with a disability.
Regardless of whether a person's disability is visible or not, the act of treating them differently or denying reasonable accommodations can be unlawful.
This can manifest in various forms such as:
Discrimination throughout the employment process, including: recruitment, hiring, training, job assignments, promotions, pay, benefits, layoff, and leave.
Harassment of an employee based on their disability.
Inquiring about a job applicant's medical history.
A workplace with significant physical barriers for individuals with physical disabilities.
Refusing to provide reasonable accommodations to employees with physical or mental disabilities.
If you have experienced any of these scenarios in your employment, you may have been subject to disability discrimination.
Federal and state laws exist to safeguard individuals with disabilities from workplace discrimination, harassment, and retaliation.
These laws also extend protection to individuals who are discriminated against due to their association with a disabled person, whether it be a familial, business, social, or other relationship.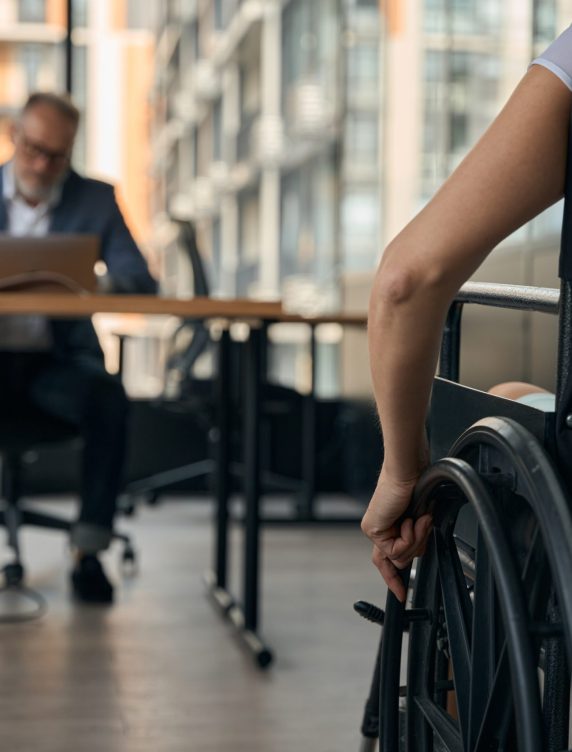 The ADA And Disability Rights
The Americans with Disabilities Act (ADA) and other state and federal laws safeguard individuals with disabilities from job discrimination, harassment, and retaliation based on their disability.
According to the law, a person is considered to have a disability if they have a physical or mental condition that substantially limits a major life activity, such as walking, talking, seeing, hearing, or learning. The law also covers individuals with a history of a disability or who experience an adverse employment action due to a substantial physical or mental impairment they currently have. A medical condition does not need to be long-term, permanent, or severe to be substantially limiting.
Disability discrimination has severe implications for employees. Laws exist to protect disabled persons and if an employer violates these laws, they can and should be held liable. Employees who experience workplace discrimination can file a lawsuit against their employer to recover damages such as lost wages, emotional distress, and attorney's fees.
Bokhour Law Group Defends Disability Rights
Bokhour Law Group has extensive experience in litigating employment disability discrimination cases and recovering large settlements for our clients. We are passionate about advocating for the rights of employees with disabilities and ensuring they receive fair treatment. Disability discrimination can have a significant impact on an employee's well-being and career.
We have a deep understanding of the laws and regulations that protect individuals with disabilities, and we use this knowledge to build strong cases on behalf of our clients. Our track record of success in litigating employment discrimination cases shows our commitment to providing exceptional legal representation, resulting in massive settlements for our clients. We are proud of our reputation as a trusted and effective advocate for employees in California.
What Our Clients Say About Us
"I endorse this lawyer. He is a very knowledgable and talented attorney and provides great service to his clients."
Farzin Hatanian
"I've known Mr. Bokhour within the legal community for a long time. I have always admired his integrity, ability to solve his clients' problems, professionalism, and polished work product. I highly recommend Mr. Bokhour and fully endorse his services."
Eliot Houman
"I endorse this lawyer. Mehrdad has been an avid employment litigator for a while, and he is very good at what he does. He treats his clients with respect and is responsive. His dedication to client services is unmatched. I would recommend Mehrdad to anyone looking for a strong and knowledgeable employment attorney."
Joshua Falakassa
"Mehrdad is a tremendous attorney. He is an extremely dedicated advocate who goes the extra mile for each of his clients. He is absolutely an attorney that I would want to have in my corner."
Andrew Malatesta
"Mehrdad is very knowledgeable in labor and employment law. He employs creative strategies and is a zealous advocate for his clients. I fully endorse him."
David Bibiyan
Positive: Professionalism, Quality, Responsiveness, Value
Highly Satisfied with our experience.
Mehrdad Bokhour and Sanjay Bansal, we are thankful for your honesty, for the excellent customer service, and for being with us every step of the way.
You guys are amazing.Thank you once again for everything you do.
Hector and Carmen Torres
© 2023 · Bokhour Law Group