Victories and Settlements
TOTAL RECOVERED
$27+ Million
NOVEMBER 2022
$895 Thousand
SEPTEMBER 2022
$3.25 Million
FEBRUARY 2021
$1.45 Million
SEPTEMBER 2020
$6.5 Million
DECEMBER 2018
$1.5 Million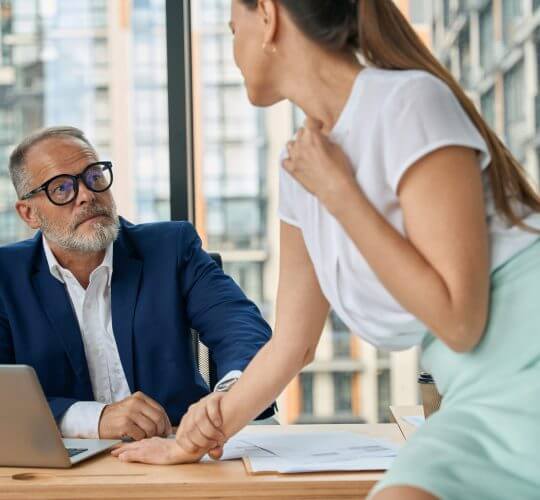 If You Were Harassed By Your Employer, We Want To Help
Bokhour Law Group is committed to upholding employee rights in the workplace. Our team of experienced employment lawyers is dedicated to representing victims of workplace harassment and discrimination. If you have been subject to mistreatment in the workplace, you deserve legal representation that is both knowledgeable and aggressive in pursuing your case. 
Our firm has a proven track record of success in cases involving wrongful termination, racial profiling, age and pregnancy-related discrimination, workplace abuse, and other harassment-related claims. We will work tirelessly to hold all responsible parties accountable and ensure that you receive the compensation you deserve. 
We understand the emotional and financial toll that workplace harassment and discrimination can take on an individual, and we are committed to providing the peace of mind that comes with a successful outcome. Don't hesitate to contact us today and take the first step towards protecting your rights in the workplace.
We Will Not Rest Until You Get Justice
Bokhour Law Group is dedicated to protecting the rights of employees who have suffered workplace harassment or discrimination based on protected characteristics. Under California law, employers with five or more employees are prohibited from allowing or perpetuating such behavior. Sexual harassment is also prohibited, regardless of the employer's size. 
The Fair Employment and Housing Act (FEHA) identifies 18 protected categories, including race, religion, age, sexual orientation, gender identity, disability, and pregnancy status. Our experienced attorneys are here to help you build a strong case to hold negligent and discriminatory parties accountable. We believe in fighting for our clients to ensure they receive the justice they deserve. Contact us today to get started. At Bokhour Law Group, we understand the devastating impact that workplace harassment and discrimination can have on individuals and their families. For too long, employees who should have been legally protected have felt unsafe in their workplace. That's why our team of experienced attorneys is dedicated to holding offending employers accountable for their indiscretions.
Let's Work Together to End Harassment In The Workplace
We believe that every employee deserves a safe and respectful work environment, and we will fight tirelessly to restore justice where it was denied. Our attorneys will work diligently to defend your rights, as guaranteed by the Equal Employment Opportunity Commission (EEOC), the California Department of Fair Employment and Housing, and other state agencies.
We stand by the principle that no employer is above the rule of law. Contact us today to schedule a consultation and take the first step in protecting your rights and achieving the justice you deserve. 
Please call our office at 951-724-4693 to match with an attorney immediately. 
What Our Clients Say About Us
"I endorse this lawyer. He is a very knowledgable and talented attorney and provides great service to his clients."
Farzin Hatanian
"I've known Mr. Bokhour within the legal community for a long time. I have always admired his integrity, ability to solve his clients' problems, professionalism, and polished work product. I highly recommend Mr. Bokhour and fully endorse his services."
Eliot Houman
"I endorse this lawyer. Mehrdad has been an avid employment litigator for a while, and he is very good at what he does. He treats his clients with respect and is responsive. His dedication to client services is unmatched. I would recommend Mehrdad to anyone looking for a strong and knowledgeable employment attorney."
Joshua Falakassa
"Mehrdad is a tremendous attorney. He is an extremely dedicated advocate who goes the extra mile for each of his clients. He is absolutely an attorney that I would want to have in my corner."
Andrew Malatesta
"Mehrdad is very knowledgeable in labor and employment law. He employs creative strategies and is a zealous advocate for his clients. I fully endorse him."
David Bibiyan
Positive: Professionalism, Quality, Responsiveness, Value
Highly Satisfied with our experience.
Mehrdad Bokhour and Sanjay Bansal, we are thankful for your honesty, for the excellent customer service, and for being with us every step of the way.
You guys are amazing.Thank you once again for everything you do.
Hector and Carmen Torres
© 2023 · Bokhour Law Group