Victories and Settlements
TOTAL RECOVERED
$27+ Million
NOVEMBER 2022
$895 Thousand
SEPTEMBER 2022
$3.25 Million
FEBRUARY 2021
$1.45 Million
SEPTEMBER 2020
$6.5 Million
DECEMBER 2018
$1.5 Million
Recovering Financial Settlements For Victims of Workplace Misconduct
Bokhour Law Group is a distinguished legal firm with a remarkable history of winning successful legal battles against large corporations and insurance companies. We are thrilled to champion the cause of sexual harassment victims and represent them with our unwavering commitment to justice. With a cumulative recovery of settlements exceeding 75 million dollars, our firm is widely recognized for its exceptional legal prowess. 
Sexual harassment is a reprehensible form of gender-based discrimination, and our firm stands steadfastly against it. Regardless of your gender or sexual orientation, sexual harassment and sexism in the workplace are unequivocally illegal. We remain passionately devoted to providing our clients with the most comprehensive legal support available, ensuring the best possible outcome for them. 
As a leader in the fight against sexual harassment, our legal team comprises highly experienced and skilled attorneys who are dedicated to securing justice for our clients. With our unwavering commitment to providing unparalleled legal representation and support, you can trust us to be your most dependable partner in your fight for justice.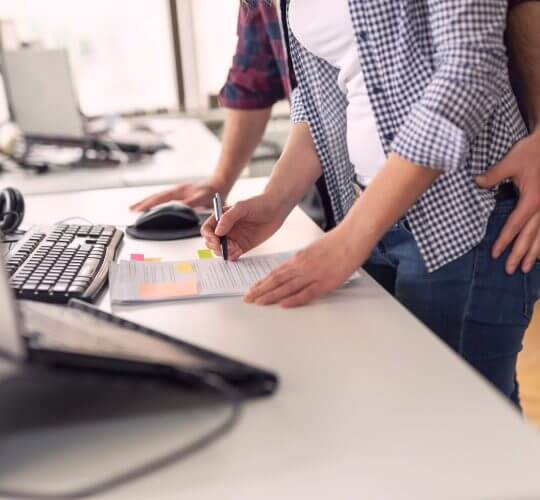 Workplace Harassment and Discrimination is Illegal in California
As per the U.S. Equal Employment Opportunity Commission (EEOC), sexual harassment constitutes a range of behavior, including unwelcome sexual advances, requests for sexual favors, verbal or physical harassment of a sexual nature, and offensive speech targeting a person's gender, sex, or sexual orientation. When such conduct creates a hostile work environment or unreasonably hinders an employee's work performance, it becomes a form of workplace harassment. 
In California, there are two recognized types of sexual harassment claims. The first is a hostile work environment claim, where the harassment causes an intimidating, offensive, or unpleasant work atmosphere, and/or unreasonably interferes with work performance. The second type of claim is known as quid pro quo harassment, where an employee's employment status, such as promotion or demotion, is affected by their response to sexual advances made by a coworker or superior. 
We Stand Firmly Against All Workplace Harassment
At Bokhour Law Group, we understand the distressing impact that sexual harassment can have on an individual's work and personal life. Our team of experienced attorneys is committed to providing the best possible legal representation to victims of sexual harassment, ensuring they receive the justice and compensation they deserve.
Call our office at 951-724-4693 to get the expert representation you deserve. 
What Our Clients Say About Us
"I endorse this lawyer. He is a very knowledgable and talented attorney and provides great service to his clients."
Farzin Hatanian
"I've known Mr. Bokhour within the legal community for a long time. I have always admired his integrity, ability to solve his clients' problems, professionalism, and polished work product. I highly recommend Mr. Bokhour and fully endorse his services."
Eliot Houman
"I endorse this lawyer. Mehrdad has been an avid employment litigator for a while, and he is very good at what he does. He treats his clients with respect and is responsive. His dedication to client services is unmatched. I would recommend Mehrdad to anyone looking for a strong and knowledgeable employment attorney."
Joshua Falakassa
"Mehrdad is a tremendous attorney. He is an extremely dedicated advocate who goes the extra mile for each of his clients. He is absolutely an attorney that I would want to have in my corner."
Andrew Malatesta
"Mehrdad is very knowledgeable in labor and employment law. He employs creative strategies and is a zealous advocate for his clients. I fully endorse him."
David Bibiyan
Positive: Professionalism, Quality, Responsiveness, Value
Highly Satisfied with our experience.
Mehrdad Bokhour and Sanjay Bansal, we are thankful for your honesty, for the excellent customer service, and for being with us every step of the way.
You guys are amazing.Thank you once again for everything you do.
Hector and Carmen Torres
© 2023 · Bokhour Law Group